Our English Bully family consists of Lou Lou, Dottie, Annie and Harrison. As with people, our dog family has multi-bull personalities! Let us introduce them to you!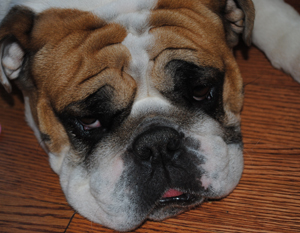 Lou Lou
Lou Lou is a four year old red and white English Bulldog with an excellent temperament and pedigree. Her pedigree includes: CH Maverick II and CH Unforgetabull Trojan Ajax. She is mother to Dottie and Annie. She is very affectionate, and thrives on our attention.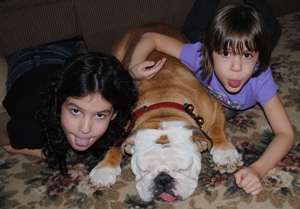 Dottie
Dottie will be two years in June. She is also a red and white female. She is sired by Sundance. He is out of CH Cherokee Legend Pretty Boy who is sired by Ch Legacy's Cajun Zues, a BCA Hall of Fame Stud Dog and on of the top winning bulldogs in breed history. We are anxiously waiting for Dottie tocome into season. We know she will be an excellent mother! Dottie is very friendly and loyal. She loves her boy, Jacob, and is excellent with children!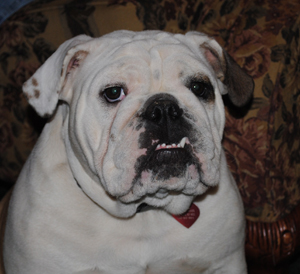 Annie
Annie is 20 months, and she shares the same pedigree as Dottie. She is fawn and white and has such a nice square head, and excellent temperament. She seems to love all!
Harrison
We are so excited to introduce Harrison into our family. Our "Little Man" came to join us in November. He is a gourgous red brindle and white male, and what a pedigree he has! Harrison's mom is Reed's Lil Piece of the Rock aka "Roxy" who is sired by CH Cherokee Legend Rock. Rocky has taken "Best in Breed" at the Westminster Dog Show for the last 3 years! He is #1 Bulldog in the USA! Harrison's daddy is CH Supple's Prominent Virgil. In 2007, Virgil became the New Champion at the Western Reserve Kennel Club. Harrison will soon be available for stud!